China to flexibly use treasury bonds for financing when necessary
---
Post Date: 13 Apr 2022 Viewed: 74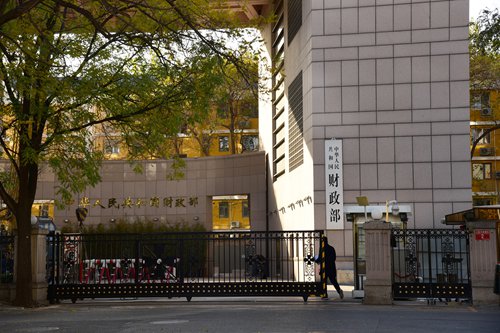 Ministry of Finance in Beijing Photo: VCG
When necessary, short-term treasury bonds will be used flexibly for financing, in a bid to help stabilize the macroeconomic market, said officials from the Ministry of Finance.

"This year's issuance of special bonds started early, and the progress was significantly faster than in previous years, helping to stabilize the macroeconomic market," Xu Hongcai, deputy head of the Ministry of Finance (MOF), said on Tuesday during a press conference.

The MOF will adjust the scale of Treasury bond issuance in a timely manner according to fiscal financing needs, and strengthen the application of emergency treasury bond financing. At the same time, when necessary, the ministry will flexibly use short-term treasury bonds for financing, said Xu.

The ministry will ensure that policies on tax rebates and tax reductions are implemented, as well as seeing that local governments' finances operate smoothly and that bottom lines in terms of living standards and salaries at grass-root levels are met, so as to stabilize the overall macroeconomic market.

A total of 3.65 trillion yuan ($572.8 billion) of special bonds will be issued for local governments in 2022 in areas including transportation infrastructure, energy, agriculture, forestry and water conservancy.

Up to now, the special bond quota used for project development has been fully allocated, Song Qichao, head of the budget department of the MOF, said on Tuesday.

"We will make grain storage and logistics facilities the focus of special bonds to support the supply of important agricultural products, especially grain, and ensure national food security," said Song.

In December 2021, the MOF allocated 1.46 trillion yuan in extra special bonds to local governments for 2022 ahead of schedule.

By the end of March 2022, almost all provinces had organized and carried out the issuance of special bond quotas in advance, totaling 1.25 trillion yuan, accounting for 86 percent of the extra special bonds issued in December, according to Xu.

Of the special bonds issued so far, 415.7 billion yuan has been issued to support municipal and industrial park infrastructure, 231.6 billion yuan for transportation infrastructure, 201.6 billion yuan for government-subsidized housing projects, 100.4 billion yuan for agriculture, forestry and water conservancy, 46.8 billion yuan for ecological and environmental protection, and 25.1 billion yuan for energy, urban and rural cold chains and other logistics infrastructure.

"These projects will play an important role in stabilizing the macro economy," Xu noted.

In terms of the impact of the current wave of the COVID-19 epidemic, Wang Xiaolong, head of the treasury department of the MOF, said that local governments have coordinated epidemic prevention and control with economic and social development, overcome difficulties and sped up the construction of infrastructure projects.

"According to our preliminary statistics, 75 percent of the projects supported by special bonds issued this year have been put into operation, which is quite high," said Wang.

S.ource from Global Times.