SOURCE / ECONOMY China's GDP grows 4.8% in Q1 despite downward pressure
---
Post Date: 18 Apr 2022 Viewed: 293


Graphic:Deng Zijun/GT
China's GDP grew 4.8 percent year-on-year in the first quarter of 2022, maintaining a stable growth range despite "unprecedented downward pressure since the first quarter of 2020" due to COVID-19 flare-ups, supply chain snags and external uncertainties arising from the Russia-Ukraine conflict.

The economic expansion in the first three months accelerated from the 4-percent growth rate recorded in the fourth quarter of 2021, buoyed by stratospheric infrastructure and property investment - a bright spot that had buffered subdued consumption and weakened factory production in the first quarter and is expected to buttress whole-year growth of the world's second-largest economy.

Observers estimated that the situation in Shanghai, China's main financial center, and its knock-on effects on the country's most vibrant manufacturing base Yangtze River Delta had likely undercut the country's first-quarter GDP by 0.5 percentage points, and such effect on growth could further deteriorate in April and May, with a restorative rebound likely to surface in June and the second half after the epidemic is brought under effective control.

While Western media has been hyping the data to pack another concrete punch against China's dynamic zero COVID-19 approach, economists stressed short-term "pause" in metropolises like Shanghai won't translate into a "once-for-all" shock and China's economic engine is "sailing on a due voyage."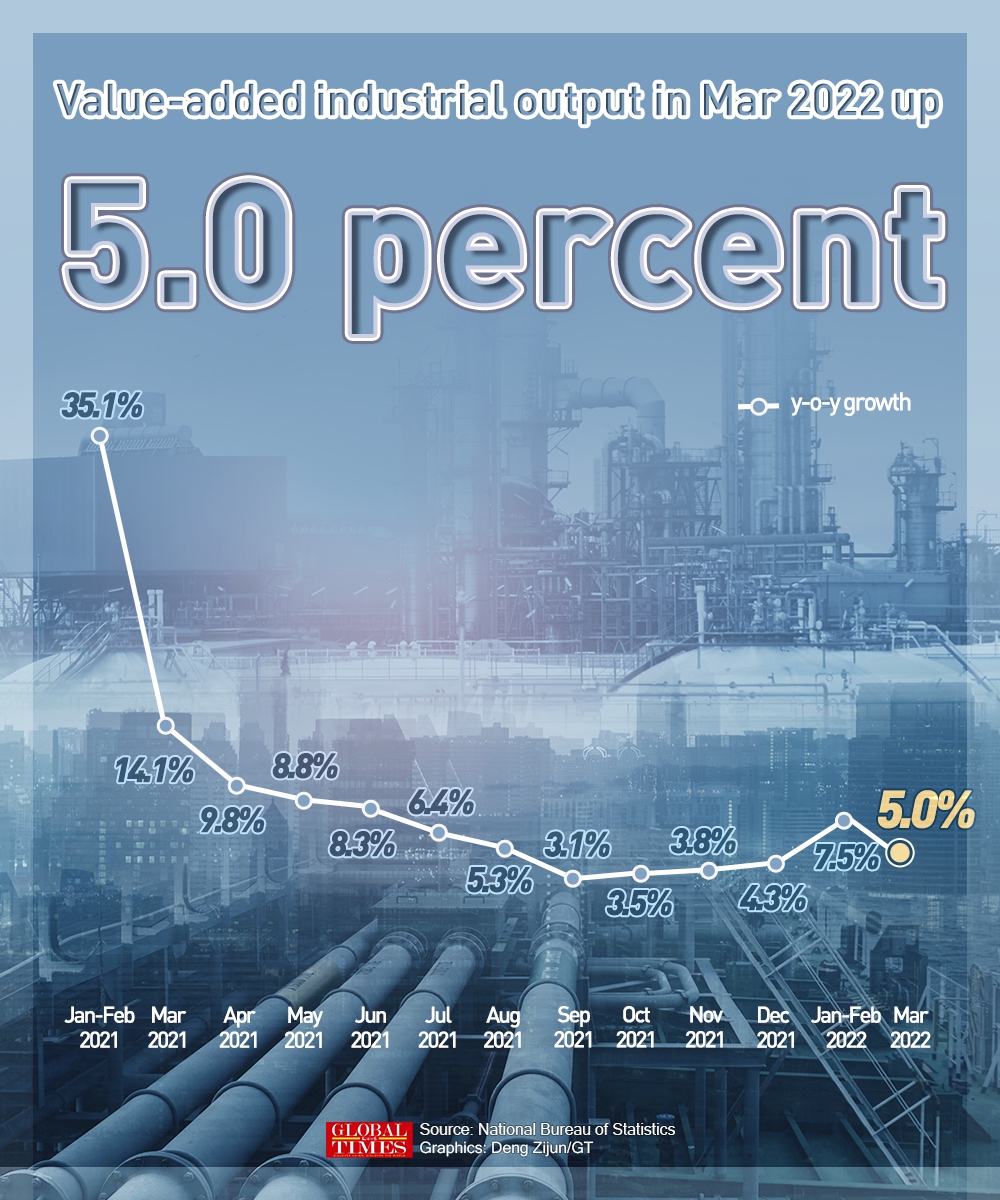 Graphic:Deng Zijun/GT
In the first quarter, China's industrial output grew 6.5 percent year-on-year, according to data released by the National Bureau of Statistics (NBS) on Monday. Retail sales grew 3.3 percent on a yearly basis in the period, however, in March alone, the number fell 3.5 percent from a year ago, the first contraction since July 2020, reversing a 6.7 percent rise in the January-February period.

Growth in fixed-asset investment was 9.3 percent in the first three months, with investment in infrastructure up 8.5 percent year-on-year.

"The first-quarter data has improved from the last three months of 2021 gauging from certain indexes. Fixed-asset investment jumped significantly on a quarter-to-quarter basis, thanks to adjustments in property policy and a pick-up in manufacturing investment," Tian Yun, former vice director of the Beijing Economic Operation Association, told the Global Times.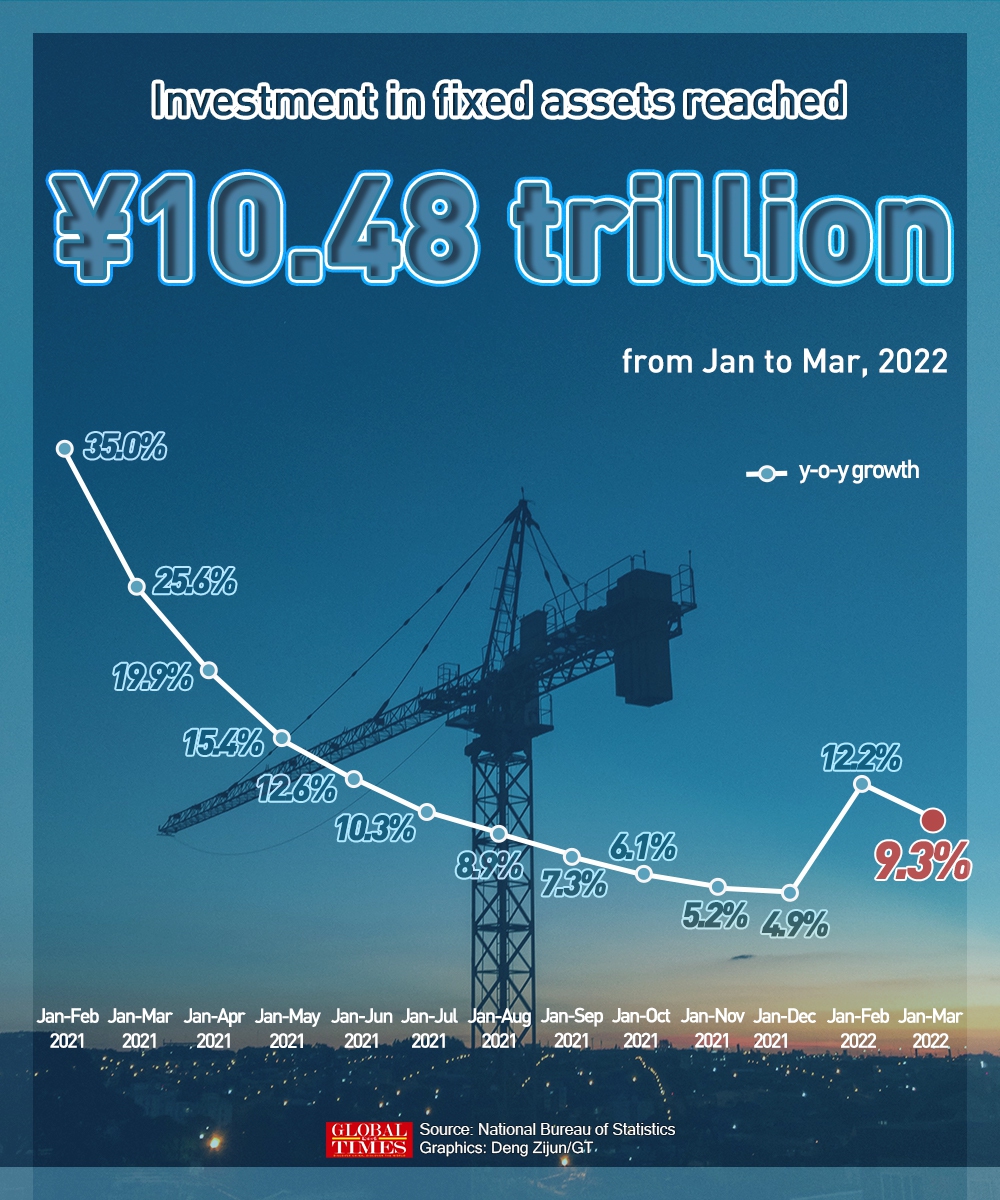 Graphic:Deng Zijun/GT
Mounting pressure

China's economy had set off a stellar opening in the first two months of the year. However, entering the third month, China's tech hub, Shenzhen in South China's Guangdong Province, was under strict anti-epidemic measures for a week, and Shanghai, the financial, trade and manufacturing hub, also entered "static management" at the end of March as COVID-19 cases spiked.

"The pause in two Chinese mega cities certainly dented March's economic growth… temporary factory closure and logistics impediment snarled supply chain, while weakened expectation on income and stay-at-home policies hindered consumption," Cao Heping, an economist from Peking University, told the Global Times, adding that the Ukraine crisis further amplified supply chain challenges and factory cost.

Tian said that the downward pressure the world's second-largest economy faced in March is "unprecedented" and "the biggest" since the first quarter of 2020, when the COVID-19 outbreak first hit Wuhan, Central China's Hubei Province.

"The March figures only reflect parts of the fallout of the situation in Shanghai and the Yangtze River Delta, which is set to be much greater than that of Shenzhen as supply chain in the Yangtze River Delta - accounting for one quarter of China's GDP - is deeply intertwined," Tian said.

He pointed out that the COVID-19 flare-up in Shanghai likely has erased around a 0.5 percentage point gain in China's first-quarter GDP, and its impact on economy could overstretch into to April and May. Should the epidemic be curtailed by the end of May, economic activities will be restored, and the country's economic engines will start roaring again, and consumption will also bounce back, he added.

On Saturday, Shanghai issued the first edition of epidemic prevention guidelines for the city's industrial enterprises to resume production, and some of its largest industrial enterprises resumed operations on Monday under closed-loop management.

"This is a a race against time, to minimize supply chain disruptions so that the manufacturing powerhouse could reboot in the next two weeks, ahead of the next rate hikes by the US Federal Reserve in May, which could affect foreign trade, capital flows and the yuan's exchange rate," Tian said.

"We could expect a restorative growth, and it is estimated that second-quarter GDP will stay flat, or even slightly higher than the first-quarter," Tian added.

'Necessary sacrifice'

Economists stressed that the short-term cost on the economy is a "necessary sacrifice" to protect the safety of people's lives, and it won't deviate the nation from its sound economic fundamentals and the pace of national development.

"There are conspicuously short-term shockwaves across both industrial chain at home and aboard, but they would ease eventually. In economic theory, if impact is controlled within 90 days, it won't become a long-term repercussion," Cao said, debunking what some foreign media outlets and organizations claim as supply chain relocation out of China or foreign capital withdrawal.

China has in recent months dialed up support to bolster and shore up its economy. On Friday, China's central bank announced a much-expected universal 25 basis points of reduction in banks' reserve requirement ratio (RRR), as policymakers tap monetary policy to help boost economic growth.

"China has sufficient ammunition. It is necessary to scale up monetary and financial tools in the second quarter, otherwise, it will be an uphill mission to achieve the whole-year growth target of 5.5 percent," Cao said, suggesting that monetary and financial tools need to be synchronized with anti-virus measures. He also called for further RRR cuts to "gear up policies at disposal to stabilize growth."

Sourc e from Global Times.