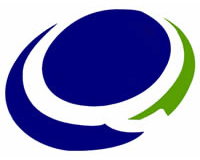 ---
Post Date: 28 Apr 2009 Viewed: 5954
The Chinese and English abbreviations of Shanxi Qinxin Coke Co., Ltd are respectively "Qinxin Group" and "QCC". Its logo consists of the evolution of phonetic alphabets "Q" and high dynamic circle. "Q" has strong sense of visual with art process. The compass-shaped flying shows the sense of industry and technology of enterprise. Furthermore, in order to realize the development direction and operative object from upgrading industrial high-technicalization to industrialization of science & technology, it elaborates high speed and stable operative mechanism, the development of high & new technology and transformation of traditional industry.
The most critical of grouping and diversification enterprise is to cooperate with affiliates. The logo looks like a big strong arm tightly surrounded by a circle. Moreover, it represents the sincere cooperation, team work spirit. Blue are sea, sky and the heart of Qinxin people. The literal meaning of Qinxin is to bring new vigor and vitality. A small piece of green implies the spirit of innovation.
The logo are smooth, concise and of rich age times. It shows vigor of business competition and deep cultural deposit.