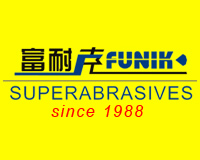 ---
Post Date: 08 May 2009 Viewed: 6056
Established in 1988, Funik Ultrahard Material Co., Ltd is located in No.16, Dongqing Street, High & New Technology Development Zone, Zhengzhou. Funik developed many new products and finally became the largest professional manufacturer of CBN. Today Funik has been the first supplier of all the CBN users in the world.
Our company successfully registered 'Funik' brand in 1998. The shape of brand consists of standard name-Funik and spelling F which is under artistic treatment. The formation elements are basic form of diamond and visual shock pattern. Take character and picture as media, the standard name of exclusive brand and its pattern combined to stress the quality of company and products. The Logo is concise and easy to recognize. The logo symbols hardness and wear-resistance of products. The company abides by mutual objective and breaks into overseas market.
Funik brand was awarded 'Henan Famous Brand' in 2001. CBN of Funik brand wined the honorary title of 'Henan Famous Product' in 2005.